Guest Blogger
Guest Blogger:
Dr. Madetra Price of TRIPPIN'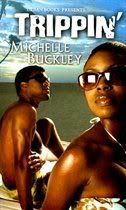 CLICK HERE TO ORDER
Since summer -- a time for vacations and plenty of time for chillin' like a villan -- is just around the corner, I accepted an invitation from my girl, Michelle to be a guest blogger on her site. I'm helping her promote the release of her book Trippin' as a small paperback book.

If you haven't heard -- the book is about MOI -- so check it out. It's available in stores near you beginning May 6th!

~^^~~^^~~^^~~^^~~^^~~^^~~^^~~^^~~^^~~^^~
When I told Michelle she could write
TRIPPIN'
, a book about me where she tells all my business about my time spent in a travel club, I had no idea what I was really getting into. Chell has a way of telling everybody's business but her own (LOL), just like she did my girl Lacy, in her first book,
BULLETPROOF SOUL
.
Anyhoo, Chell is my girl and all and she has really helped me deal with my uhmmmm....issues. And now that
TRIPPIN'
is coming out in May as a small paperback -- I've decided to stop being so low-key. It's time to embrace my less than perfect life journey.
When I think about my time in DAT CLUB, in the beginning -- things were all good. We had a blast!
I was in the group with Kaylantra, my twin sister (yes, what you heard is true, she's a stripper and Internet porn model). Also in the group was my sex-crazed accountant husband, Darryn, my hands-ordained-by-God massage therapist Gerald; Destanie, a desperate and silly local tv producer; Finesse, a fine as wine news anchor, and my crazier-than-his-clients co-worker, psychiatrist, Ian Shaw (what a rat!)
Today marks the day that DAT CLUB took it's first trip. During that trip I first noticed the spark between my sister and one of the DAT CLUB members -- although she denied it! Hee...let's suffice it to say: I WAS RIGHT! During that trip, I also realized I wanted to fight like everything for my troubled marriage. As a doctor, I work some hellified hours and that along with a bunch of other issues has caused plenty of problems in my relationship!
(Chelle has it all documented in
TRIPPIN'
! Even I can't believe all that I've been through.)
Am I proud of some of the things mentioned in
TRIPPIN'?
Hell-to-the-NAW! But moving forward, I plan to make amends for all the dirt I've done. You may even hear about how I'm righting my wrongs in a future book. (Hint, hint, Chell!)

To read an excerpt from TRIPPIN', click here and here.

For the record, I thought that starting DAT CLUB would be a great way to spend more time with my honey so we could repair our marriage. What was I thinking???

After four fun trips...things slowly but surely started to go terribly wrong. Let's just say love, jealousy and envy can be deadly and because I've seen that first hand, here are a few life lessons I learned the hard way that I want to share with you:

"Life is either a daring adventure or nothing. To keep our faces toward change and behave like free spirits in the presence of fate is strength undefeatable."

"To get through the hardest journey, we need take only one step at a time, but we must keep on stepping."

"All journeys have secret destinations of which the traveler is unaware."

My journey has been one heck of a daring adventure...and despite it all, I've had to keep on stepping!!!!

If you're planning on taking a trip any time soon, all I can say is this: before you go, pick up a copy of Michelle's book, TRIPPIN' (and get BULLETPROOF SOUL, while you're at it). It will make Chell feel good and it will make me feel like what I've been through has not been in vain.

If you haven't guessed by now, my story is a cautionary tale for anyone who wrongly thinks the dirt you do away from home won't eventually follow you home! (Remember, what's done in the dark does indeed come out in the light.) But, perhaps my crazy life journey can help someone -- at least that's my hope. So, please buy a copy of TRIPPIN' today!

Be Safe....And Happy Traveling!


Love ya -- MADly,

Dr. Madetra Price